*leaves.
410 Apartment Therapy posts on my Google Reader were way too many to read, but I am so happy I browsed a couple of them because
these framed leaves
bring me joy. I already have a lovely 9-group in glass and copper tape gathered from Provo canyon a decade ago, but surely one more....
* switchplate covers. After painting this weekend, I sure hated to screw those ugly yellow plastic things back on the wall. What do you think of covered ones? fancies? tacky? cool kitch? Hmmm....
*still wanting to sew... newest inspiration from
Golden
. Except the girls both have too much clothing. I think these could be for me...ah, the clothing angst I'm feeling right now for my unfashioned self!
*fall crafts, you're calling my name!
Owl gourds?!! I happen to know a neighbor with a bumper gourd crop this year...
*everything at
A Toy Garden.
If anyone wants to make anything inspired by this site, go ahead and let me know, because
I am IN
. It's time for holiday gift planning, for real and certain! (I'm going to host a monthly small toy workshop--working on your own projects or joining me in mine--in the next couple of months leading up to the big Gifting. E-mail me if you're interested....)
*surprise balls.
Read this: from
Oh Happy Day
and tell me this: can I get away with substituting Christmas stockings with surprise balls this year?
*linked animal puzzles.
I want to design my own for a bit of Santa's workshopping, but am afraid I'll just use one of these for a template:
Enzo Mari's classic ($499) design
: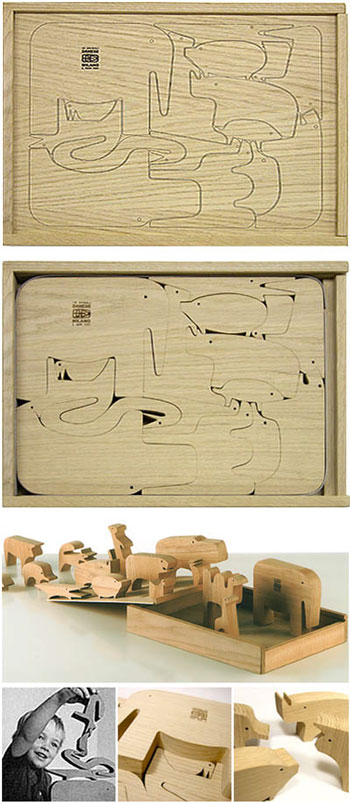 This great one I can only find
a review
of:
Or maybe I'll just use my Tupperware giant cookie/jello cutter.

but since that will be cheating, I'll work on it...
*edit: I just found this by
Selecta Spielzeug. $85 at the Wooden Wagon. Hmmm...