Yesterday was our home inspection and it was awfully fun to hang out in our new house for a couple of hours, even if it was with the nice man who was looking hard for (and explaining) all of its problems. None too serious, luckily, so
we're going ahead
! It's funny, house-buying. We saw our little cottage twice, decided, then have been stuck in this soon-ours-but-not-now limbo, banned from the house for politeness-sake, lustily examining any photos we can find online (Audrey & I: Marian & Nathan don't like to play this game as much as we do). The house has been recently totally remodeled, and tastefully so, and thus move-in ready, but I'm trying to decide if we should paint a bit before furnishing. Yesterday I discovered that the bedroom we will be using is currently a very pale blue, not my choice, so it became the prime painting candidate. Then I saw this today on
decor8
...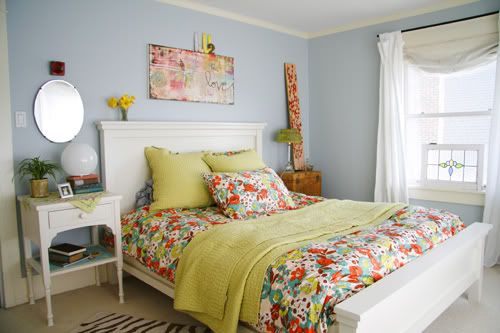 Reconsidering. Now we just wait 3 more weeks before seeing it all again. Though the very nice lady-who-lives-there has been warned that I'm stopping by to deadhead the roses this week. Because one of us is more interested in their summer blooming than the other :).
My decorating tastes used to be very earthy. Very neutrals with green. But lately I'm starved for COLORcolor
COLOR.
Which may incite me to actually use all that creative juice for decorating my home instead of just making more stacks of tiny little things.
Except,

bummer

, must make this conversion on a we-just-blew-the-wad-on-a-house budget.