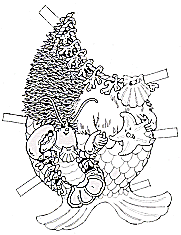 I am on a paper doll quest for my daughter's impending hospital stay, and wanted to share my favorite internet finds. There are lots out there, but I wanted black-and-white only so we could color our own.
sweet drawn foxes, Zelda & Ivy, based on the book by Laura Kvasnosky
http://www.lmkbooks.com/doll.htm
Jan Brett's Hedgie & Hedga: c'mon, a
hedgehog mermaid costume
!?
http://www.janbrett.com/costumes_main_choice.htm
I also liked the paper doll templates from Judy Johnson, available
here
. 2 color dolls that printed okay in b&w, with lots of collars & cuffs as well as templates to make dresses from patterned paper to go with them. I printed them 1/2 size, because that's my general life theme. The site is all paper dolls, if you're an enthusiast.
And one from this month's issue of
small
magazine, in
small draw
, by illustrator Catherine Campbell.
http://www.smallmagazine.net/issues/2008spring/smalldraw-2008spring.pdf
edit: I wanted to add these links from a smartie commenter, because they are f-i-n-e. Thank you!:
http://marilee.us/paperdolls.html
http://tpettit.best.vwh.net/dolls/pd_scans/index.html